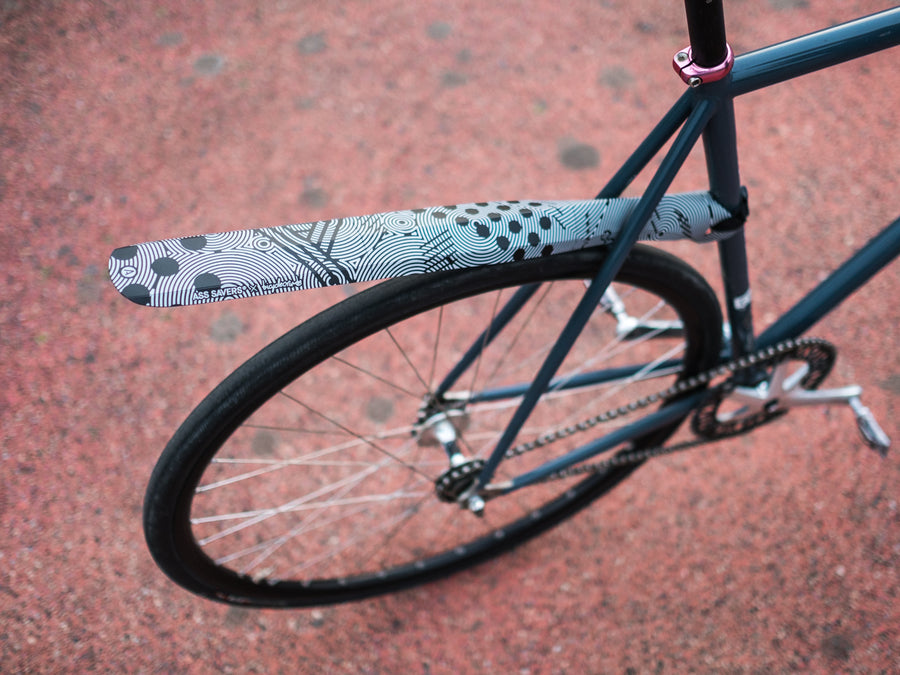 Fendor Bendor Regular Bicyclecrumbs
---
---
A fully reflective mudguard that will keep you safe in style! Folds up for storage, mounts in a jiffy!
---
---
---
Highly reflective print
Fits almost all bikes
Super lightweight, only 50 grams
Longlasting, durable materials
Made in Sweden
The Jedi laser sword of mudguards is back! Adapted to the fourth generation of FENDOR BENDORS, it will keep you visible and safe as well as dry as a nut. Mounts on your bike in seconds without tools. Completely foldable, it can easily be stored in a bag or jersey pocket for wet rides on the dark side.
"..will keep you dry and seen, and still mounts to the bike in seconds.." -bikerumors.com
"These aren't just any old reflective mudguards." -road.cc
"What's better than a fully reflective Fendor Bendor mudguard from those clever Swedish chaps at Ass Savers? One designed by talented illustrator Bicycle Crumbs, that's what." -bikeradar.com
"It's super light, completely foldable and insanely reflective." - lumberjac.com


For more technical info about the FENDOR BENDOR Regular, look here.

For full front and rear protection, team it up with the SPEED MULLET Regular!

Are you looking for FENDOR BENDOR Big? It's here. 
Technical data
Measures: 540x65 mm (effective)
Weight: 50 g
Material: 1 mm PP (Polypropylene)
Fit
The Fendor Bendor fits all frames with standard seat stays. It's self supportive and doesn't require support from the brake bridge or the seat stays. It can also be mounted directly on a seat post (as low as possible for best effect). The Fendor Bendor will not fit if you have monostay frame or center pull brake.
Prefold
The scoring lines along the fender need to be folded hard in order to give the it the necessary rigidity and strength. Take extra care to fold down the outer edges to make sure your Fendor Bendor is functioning properly.
Frame protection
Each Fendor Bendor is delivered with a small set of transparent 3M polyurethane protection stickers. Use these to protect your seat stays from scratches from the fender.
Storage
The Fendor Bendor can always be folded back into a small package for storage in a bag or jersey pocket.
---