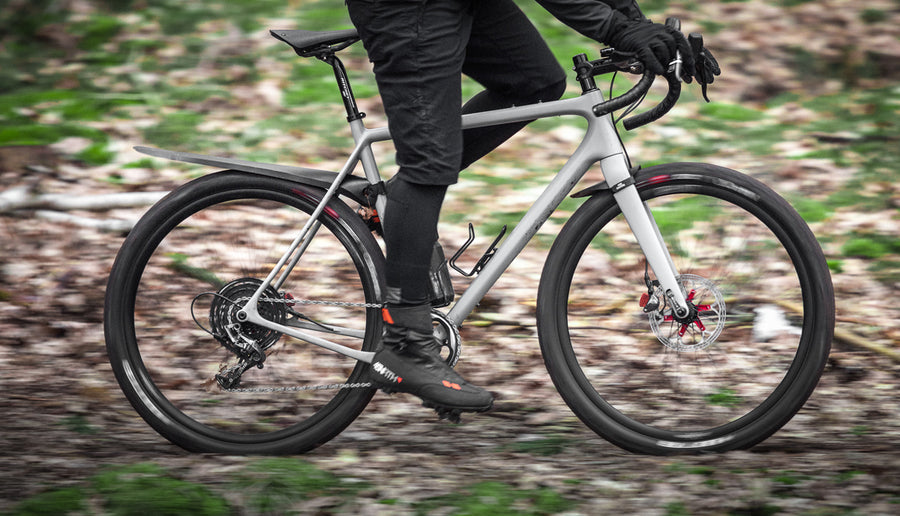 Fendor Bendor Big
---
---
It's a dirty job but Fendor Bendor Big gets the job done! Maximum protection for gravel or MTB.
---
---
---
Easy to fit, no tools required 
Perfect for Gravel or MTB
Super lightweight, only 61 grams
Longlasting, durable materials
Suitable for tire widths between 32-55 mm
The FENDOR BENDOR Big gets the dirty job done. The all new attachment makes fitting without tools a breeze, to virtually every bike in just a few seconds. 
Universal fit
With the newly developed attachment construction, FENDOR BENDOR Big is now completely self supported and therefore possible to mount on bikes without the sideway support of the seat stays or the support of a brake bridge. You could also mount it above your caliper brake to avoid interference with the brake.

"...once I expect to do more wet gravel riding in the winter, it will get strapped back on the bike and left there until spring comes." Cory Benson, Bikerumor 
For the rough stuff
It has been developed for gravel biking but is also a great protector for CX and MTB. With greater length and width, it's well suited for the longer wheelbase normally associated with this segment of bikes. A single midway fold still allows for convenient minimal storage but with maximum sturdiness for the rocky roads ahead.
Frame protection by 3M
Both models come with upgraded frame protection stickers from 3M. A material originally developed to protect the helicopter propeller blades from the sand storms in the desert, it makes sure that no scratches will be made to your beloved bike by the FENDOR BENDOR.
For front protection, consider adding a MUDDER Mini or SPEED MULLET Regular

Are you looking for FENDOR BENDOR Regular? It's here. 
Technical data
Measures: 555x80 mm (effective)
Weight: 61 g
Material: 1 mm PP (Polypropylene)
Fit
The Fendor Bendor fits all frames with standard seat stays. It's self supportive and doesn't require support from the brake bridge or the seat stays. It can also be mounted directly on a seat post (as low as possible for best effect). The Fendor Bendor will not fit if you have monostay frame or center pull brake.
Prefold
The scoring lines along the fender need to be folded hard in order to give the it the necessary rigidity and strength. Take extra care to fold down the outer edges to make sure your Fendor Bendor is functioning properly.
Frame protection
Each Fendor Bendor is delivered with a small set of transparent 3M polyurethane protection stickers. Use these to protect your seat stays from scratches from the fender.
Storage
The Fendor Bendor Big can be folded in half for easy storage in a backpack or strapped on your bikepacking gear.
---