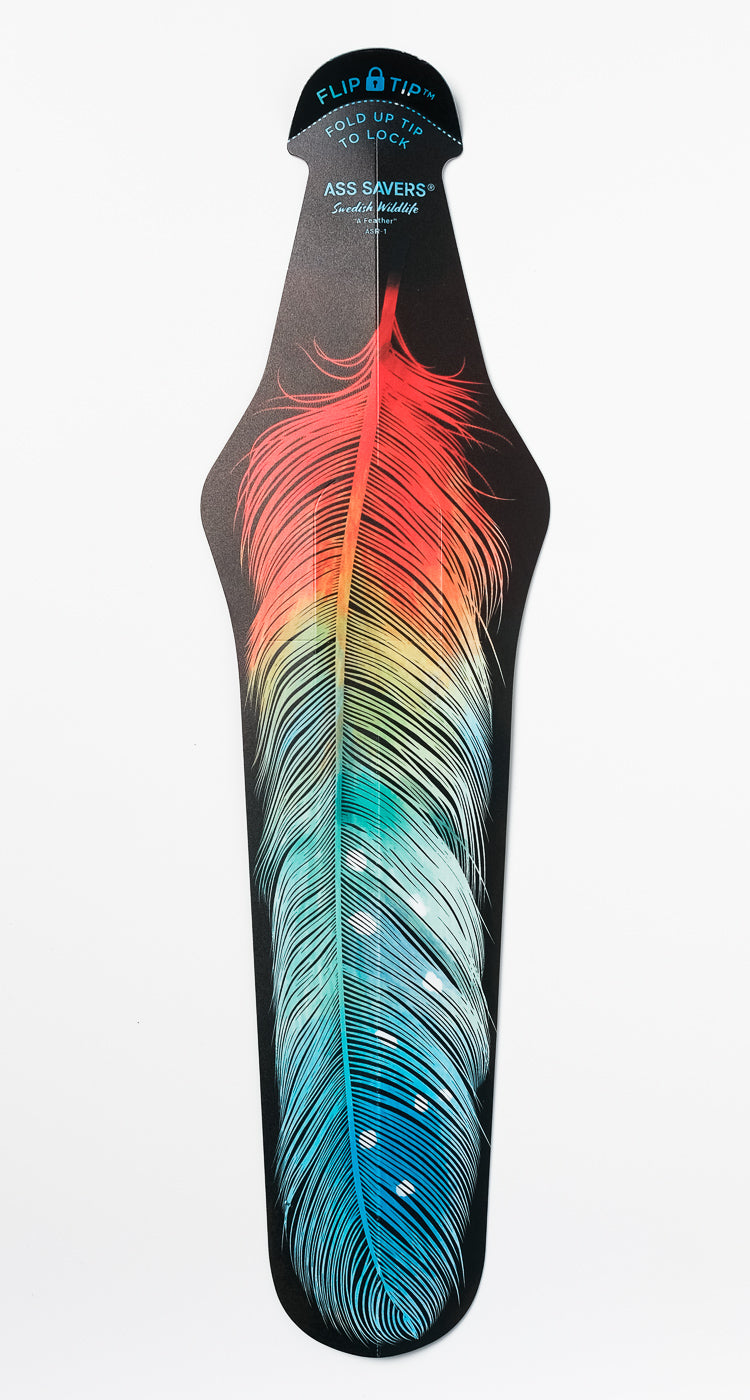 ASR Feather
---
---
Not picked from living birds! In fact it is just a print. So nice though!
---
---
---
Ass Saver Regular
Keeps your butt dry on wet roads
New patented FLIP-TIP™ attachment system
Easy to fit, requires no tools
Fits every standard rail saddle, also with carbon rails.
Suitable for tire widths between 23-35 mm 
The mighty seagull (lat. Larus canus) is the most common gull on the Swedish west coast and a true representative of Swedish Wildlife. We are humbled to live among them and to show our gratitude towards this great animal, we've immortalised a tail feather on a mudguard. This is the best Sweden has to offer.
Technical data
Measures: 380x102 mm
Weight: 19 g
Material: 0.8 mm PP (Polypropylene)
Front rail attachment
Since 2014 all Ass Saver saddle mudguards attach to the front saddle rails only, ahead of the seat post attachment. The advantage with this solution is that saddles are more uniform in this area and we can therefore provide a proper fit to a much wider range of saddles. Attaching only to the front rails makes the mudguard self centering. If you accidentally kick it without noticing, it will strive to regain it's centered position. This is one of the key innovations in saddle mudguard technology and is therefore protected under patent No. WO2015036127
FLIP-TIP™
Using origami principles, the patent pending FLIP-TIP™ technology allows you to securely fasten the mudguard to the saddle with a simple flip of the tip, just like a cycling cap. To unlock, just flip the tip back down and pull backwards. Carbon rails The FLIP-TIP® technology is fully compatible with all types of carbon saddle rails.
Saddle bag compability
The new Ass Saver mudguard is a lot easier to install with a saddle bag than previous models. While we can't guarantee a perfect fit with all saddle bags, great improvements have been made with considerably less interference as a result.
Pre-folding
The secret to transforming a flat piece of plastic into a functioning mudguard lies in the pre-folding prior to use. All the scoring lines have been carefully engineered to achieve locking mechanisms, self centering abilities, spring loading and material endurance. Please take the time to properly read the instructions/see the instruction video to ensure the best performance.
---