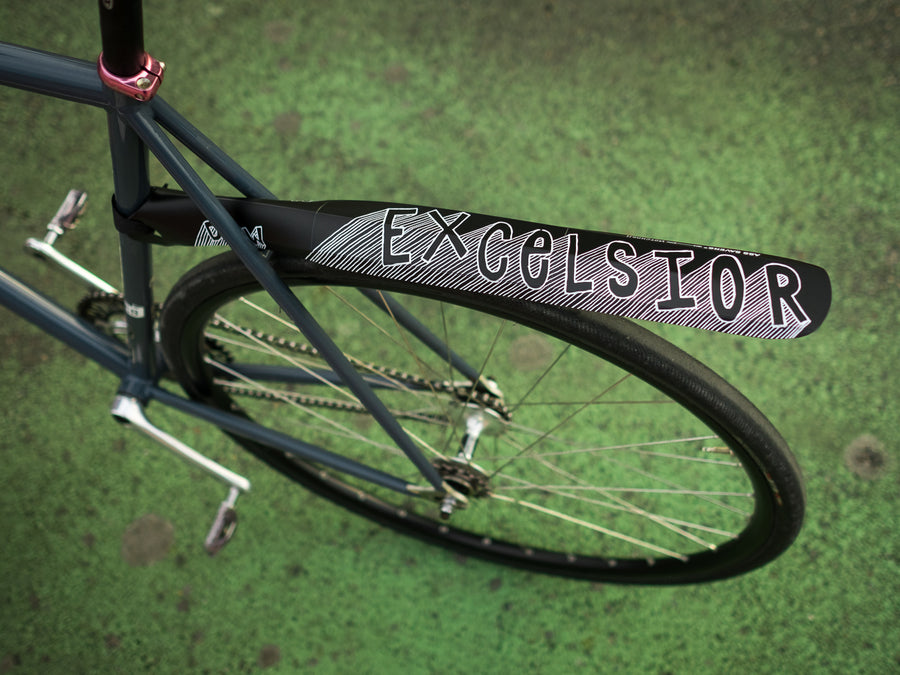 Fendor Bendor Regular Excelsior
---
---
Excelsior! Always higher, ever upwards!
---
---
---
Full stoke included 
Fits almost all bikes
Super lightweight, only 50 grams
Longlasting, durable materials

Easy to fit, no tools required

What would be a better way to kick off the fourth generation of a fender that was born on the streets, than to launch a special edition with the living legend Chas "@notchas" Christiansen? 

Chas is one of those guys who wants to try everything and manages to pull most of it off. With his roots in the messenger world of San Francisco he's the urban face of Oakley and a core member of the MASH SF family. He runs a messenger company, is front man of a punk band and is successful in a variety of endeavours. Needless to say, Chas rips any bike, anywhere.

If you are familiar with this renaissance rider, you haven't missed his signature scribble style of illustration that has ornamented products from Giro, Cinelli, Selle San Marco and many others.

The FENDOR BENDOR Regular is dubbed "Excelsior" and fits Chas lifestyle of "ever upwards" and spreading positive vibes wherever he can. We're happy to join him in his ever ongoing "search for stoke"! 
Warning! This products contains high levels of PMA.
For more technical info about the FENDOR BENDOR Regular, look here.
Chas who? Find out more here & here!
For full front and rear protection, team it up with the SPEED MULLET Regular!

Technical data
Measures: 540x65 mm (effective)
Weight: 50 g
Material: 1 mm PP (Polypropylene)
Fit
The Fendor Bendor fits all frames with standard seat stays. It's self supportive and doesn't require support from the brake bridge or the seat stays. It can also be mounted directly on a seat post (as low as possible for best effect). The Fendor Bendor will not fit if you have monostay frame or center pull brake.
Prefold
The scoring lines along the fender need to be folded hard in order to give the it the necessary rigidity and strength. Take extra care to fold down the outer edges to make sure your Fendor Bendor is functioning properly.
Frame protection
Each Fendor Bendor is delivered with a small set of transparent 3M polyurethane protection stickers. Use these to protect your seat stays from scratches from the fender.
Storage
The Fendor Bendor can always be folded back into a small package for storage in a bag or jersey pocket.
---