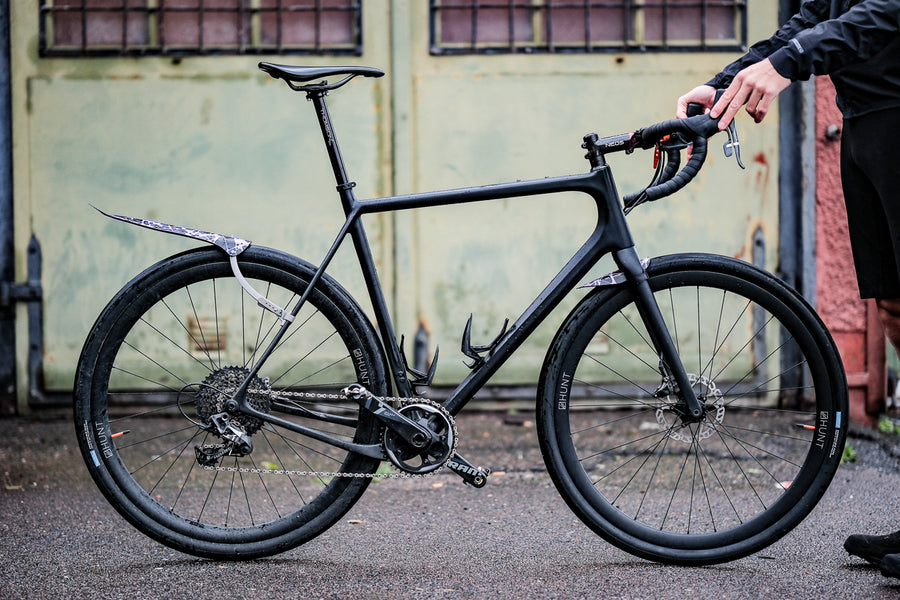 Win Wing 1 Gravel SQUID
---
---
Join the Tangent revolution!
---
---
---
In collaboration with SQUID Bikes, California
Created for the non-shy
Attaches in seconds to every bike, requires no tools
Ultra-lightweight at 72 grams
Suitable for tire widths up to 60 mm

SQUID bikes is known for their all-in, hand made, woo-haa!-designs and this is one of their signature patterns applied to our awarded rear mudguard Win Wing Gravel. Strap it on and shine or forever stay in the shadows!

Looking for a matching front mudguard? Check out our SQUID Mudder Mini
The SQUID Kollection is the lasting effect of the magical but very limited "The 128" collaboration. For more info check out this link.
Video instructions? It's all here!
Technical data
Measures: 375 x 85 mm
Weight: 72 g
Material: Blade - 0.9 mm PP (Polypropylene),Wishbone holder - glassfiber reinforced PA (Polyamid or Nylon) and Strap - TPU (thermoplastic polyurethane).
Tangential Coverage  
The key to understanding how the Win Wing works lies in physics: water and mud leave the wheel in a straight line from the tangential point of release. By shielding only the upper rear quarter of the wheel, the Win Wing eliminates spray from reaching the critical areas of the rider with a minimum of material.
Mount right, mount tight 
For the Tangential Coverage to work properly, the mudguard needs to be installed very close to the wheel. Aim for 5-10 mm tire clearance for maximum coverage. 

The right angle
Just as important as a tight fit is the angle of the blade. There are three different settings to compensate for the angle of your seat stays. Choose the one that allow a horizontal or a tail-up position. Avoid a tail-down angle as this will reduce  the efficiency of the fender.

Strap it hard
The straps are made from ultra-tough TPU and should be pulled as tight as you can comfortably do by hand. If you experience that the mudguard is not stable, try to use the next hole in the strap.
Protect what you love
We have made the Win Wing as kind to your bike as possible with soft rubber feet that gently hugs your frame. However, anything that is strapped to your bike for a longer period of time will leave marks. If you are very keen on maintaining that new bike look, please remember to install protective tape where your Win Wing is attached.
Anti-Jam 
As sturdy as it is, the design of the Win-wing allows it to flex in case of an accident and it's constructed to not jam in case of large chunks of nature get stuck to your wheel.

Anti-Theft
If you like to keep it attached to your bike permanently, the Win-Wing can be secured to your bike with a standard zip tie, through a designated slot, making it easier to resist for people with sticky fingers.

Reliable
Thanks to it's sophisticated simplicity and careful choice of materials, the Win-Wing is virtually indestructible. With only four components (competitors use as much as 40 components) it's not that much that can go wrong. The glassfiber reinforced wishbone holder is both flexible and tough and the rubber straps are virtually indestructible.
Pre-folding
The secret to transforming a flat piece of plastic into a functioning mudguard lies in the pre-folding prior to use. All the scoring lines have been carefully engineered to achieve locking mechanisms, self centering abilities, spring loading and material endurance. Please take the time to properly read the instructions/see the instruction video to ensure the best performance.

Sustainability
The black blade is made from 80% recycled PP and the Win Wing has been designed for efficient shipping and easy recycling. Each component can be purchased separately, making repairing and upgrading convenient. The Win-Wing is 100% Made in Sweden in ISO 14001 certified factories.
---